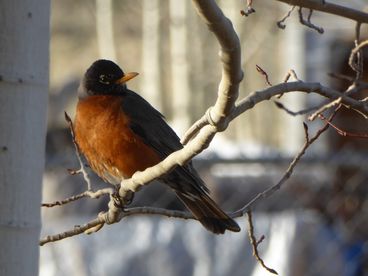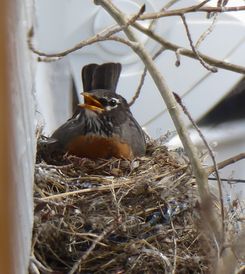 I started today like I always do: I went out with Wally the dog, camera in hand, hoping something spectacular awaited me when I turned from our driveway onto the street. It's not hard. The Rocky Mountains are straight ahead and are as changeable as I am on any given day. Some days they're golden, other days they're red. Most days, they're just sitting there offering their grandeur to whoever is looking.
This morning, there was nothing special about the mountains. Patches of snow on their peaks looked sick and dirty from the dust that's been stirred up by the wind recently. I was disappointed. I hadn't slept long enough. I needed the mountains to do something dramatic to wake me up.
But just as my hopes went flat, the male robin building a nest outside our bedroom window looked straight at me from a tree in our front yard. I'd never seen a robin stay put like that. Clearly he's used to me.
Like pigeons, Robins rarely excite me anymore. But to have a pair building their nest on the side of our house is a whole different thing. We find ourselves cheering them on, watching for them in the morning, and checking on them throughout the day. When I was waking up early yesterday morning I saw their shadows flying back and forth through the shades in our bedroom. They were already going through the motions of life: working hard, gathering materials, and doing the best they could with what they've got. There's even a long string of blue plastic running through their nest. I wonder what it took for them to get it there in one piece.
When I got home with Wally I checked on the female. She was in the nest stretching her beak to feel the 25-mile-an-hour winds that made holding my camera difficult. Her simplicity and purpose were clear. It was a good reminder on a Monday morning.